Introducing Amigo SinPin™Pinless Calling and Much More!

Amigo SinPin™ is provided by Veritas PPD, a leading international carrier with a vision to move prepaid international communications into the new age.

We have also established relationships with many of the worlds greatest mobile carriers and provide a wide range of Top-Ups.


What is Amigo SinPin™?

Amigo SinPin™ is a user-friendly web-based Sales Portal.

Rapid Store Set-Up

Minimal User Training Required

Users register their Phone Numbers and make their calls.

Hot Lines give customers local # that call directly to their international destination.


Introducción a Amigo SinPin™Llamadas sin pines y mucho más. !

Amigo SinPin™ es producido por Veritas PPD, una compañía internacional líder con la visión de transformar las comunicaciones internacionales a una nueva época.

Nosotros también hemos establecido relaciones con muchas de las mas grandes compañías de telefonía movil para proveer una amplia cantidad de recargas.


Qué es Amigo SinPin™?

Amigo SinPin™ es un portal de venta muy amigable.

Puesta en marcha de tiendas rapidamente.

El entrenamiento al usuario es muy mínimo.

Los usuarios registran su número telefónico y hacen sus llamadas.

Los Hot Lines dan al cliente un número local que los conecta directamente a su destino internacional.

Other Services

International phone Top-Ups: Mexico, Guatemala, Honduras, El Salvador and USA.
Otros Servicios

Recargas a teléfonos internacionales: Mexico, Guatemala, Honduras, El Salvador and USA.
Store Portal
Portal para tiendas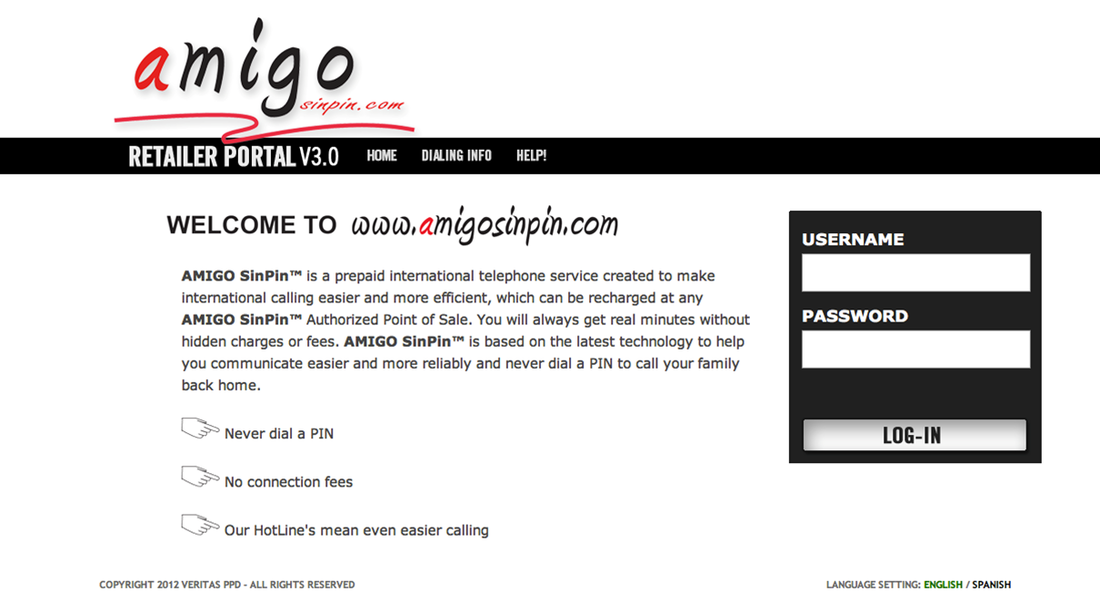 Selling Amigo SinPin™


Vendiendo Amigo SinPin™